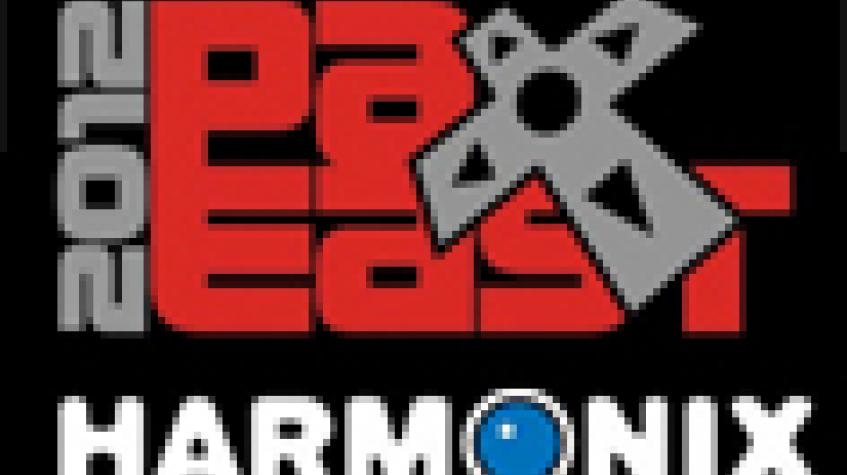 The Harmonix Community Team always has a great presence at PAX. This year they were on site to support three different titles on the show floor as well as conducting two official panels.
The Floor
The floor presence for Harmonix consisted of two booths across from each other. One side had two Dance Central platforms which were staffed by the choreographers. If you had the skills, you could challenge them to dance offs. I wasn't confident in mine, so I just danced with friends while they waited in line to dance. And that shows how much fun HMX titles are when there are lines for games you can play at home. The DC booth also gave away lots of cool swag to anyone who danced. I scored a Lu$h Crew slap bracelet and a Boombox reusable shopping bag.  They also had bandannas and sunglasses. The Rock Band setup had a line to play as well especially with the floor experience being more authentic than your living room since you get to play on an elevated stage. It was especially fun to see cosplayers up there rocking out!
The most exciting part of their floor setup was that you could get your hands on a demo of their new game, Rock Band Blitz. They had six kiosks setup, so I lucked out and only had to wait through two songs to try it out. It took me a few seconds to get the hang of the controls, but once I did it was a lot of fast paced fun that I can't wait to play more of. They had more swag for playing Blitz and I scored a sweet Blitz t-shirt. They also had employees on the floor asking follow up playtest questions and looking to post video interviews for the forums. It was awesome to see how they were using the community so directly in the shaping of the game! All in all it was a super fun booth experience.
The Panels
The first offivcial Harmonix panel was Saturday morning at 10:30AM and titled From Frequency to Rock Band Blitz: The Evolution of Harmonix Beatmatch Gameplay. Representing HMX was Project Director Matthew Nordhaus, Design Director Chris Foster, Senior Designer Brian Chan, and User Experience Specialist Jyllian Thibodeau. They were an excellent team cross section to really give insight into how the game was developed at Harmonix. They revealed it's been a project for several years that's been on and off green-lighted. It's come through many different prototypes and ultimately they decided they wanted to stay true to a frenetic arcade style. A big focus of their playtesting is what controls work the best and how many buttons to use for hitting gems in each instrument track of the game. In the current version they decided two buttons was the right feel for an arcade title and they left several control schemes for the player to choose from. They supplemented their talk with slides of prototypes of the evolution of the art style of the game throughout the years. They decided to go with street view style with lots of homage to the venues and art of the Rock Band games. My personal favorite slide was the title slide with monkeys playing instruments as Harmonix and monkeys are probably my two favorite things. Overall this was an awesome behind the scenes panel!

Sunday morning at 11:30AM brought another panel, The Harmonix Podcast-LIVE! This was the 66th episode of their great podcast that's always a rollercoaster riot spanning many topics. It was especially exciting to get to see the team's antics and interactions live after listening along all this time. One of the story highlights was the PR nightmare of how Rock Band Blitz was leaked on twitter at GDC but quickly contained. They also had a lightning round of interviews with a guest roster of industry friends from places like Popcap and Giantbomb that gave each person 5 minutes to speak till they were cast off stage by the team ringing a giant gong. You can check out the podcast results for yourself at http://www.rockband.com/blog/episode066
The Harmonix Team are all super friendly, approachable and a favorite part of my PAX experience. If you get a chance to attend an event, they are definitely something to add to your agenda for the weekend.
About the Author
Erin is a born and bred Masshole gamer who started at a young age watching her dad play Atari. She currently owns all three major platforms as well as has a home arcade cabinet and 2 pinball machines (Erin has games instead of children). Erin is actually pretty terrible at a lot of video games and continues her trend of watching her husband play games and "managing" him from the comfort of the couch sans controller. Her favorite type of games are point and click adventures, platform, and rhythm which fits nicely with her love of prog rock and live music.