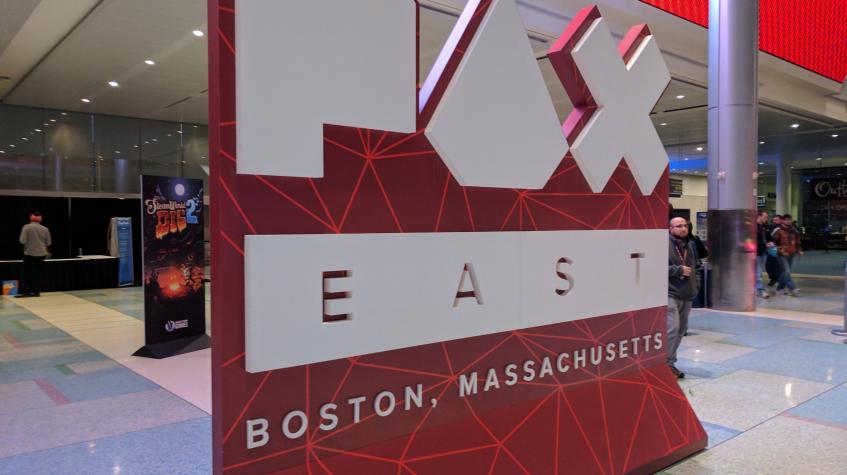 PAX in Pictures 2017
Another PAX East has come and gone in the Boston winter.  While I work on writing about all the cool stuff I saw, here's an overview of the weekend in photos.
Let's have a convention in New England in early March.  The weather will be awesome!
Welcome to my home state where its cold and full of traffic…
I'm not sure what hurts more looking at this photo: My wallet or my stomach…
Other gamer grub & cocktails for PAXers
They need to make a VR headset that looks like Raz's goggles.  Also I know that person in line! :)
Nintendo is really taking this Switch stuff to heart and entering the restaurant business?!
Chilling and chatting with all his streamer pals.
This frog travelled all the way from Australia to PAX East.
Nidhogg is back!
Knitted cute animal heads at the Clever Endeavour booth.
No idea what this game is but the birds are too cute!
Not sure what's going on here either but I'm told the internet likes cats...
Mario & Sack Boy
Breakfast can wait…
The cast of Super Mario Bros. needs a cellphone break
Who's the cutest bomb sniffing dog?!
The Protomen always put on an amazing show.  They headlined the Friday night concerts this year.
Everyday they're hustlin' to make PAX possible!
Make-a-strip in action
Toejam & Earl are back!
Looking forward to checking out the new BlasterMaster on the Switch!
Just like my childhood bedroom!
Yes. Thank you, naive human. Now, I can finish taking over the world!
My 2016 Game of the Year vote Firewatch offered photos in the solitude of the woods on the floor.
The baby was surprisingly not grouchy!
Raiden Wins! (at cosplay)
Something about setting up a VR game about riding a bike in front of a giant window feels wrong...
Borderlands fans kick butt at cosplay.
No clue who these dabbing pink ladies are but they look fabulous!
Quite the setup for Morrowind in the Bethesda booth.
Prey for this AAA title to do well.
Legitimate journalist achievement unlocked!