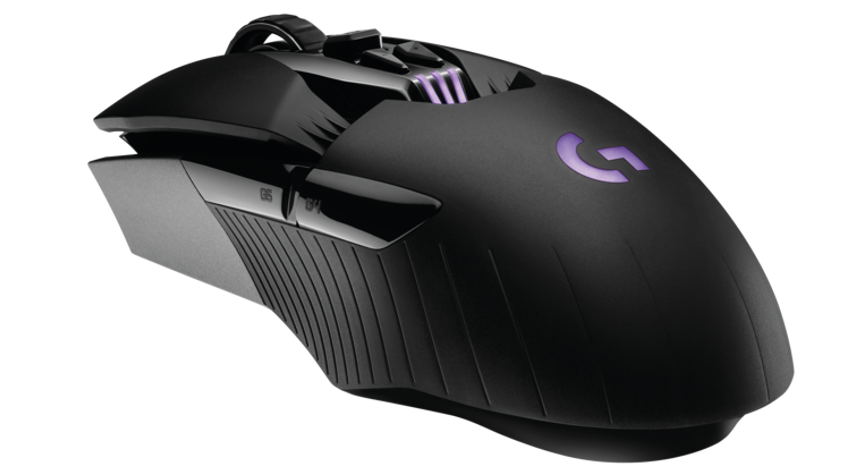 Over the years I've used dozens of gaming mice from a handful of companies, including Logitech, but what I didn't expect was for the G900 Chaos Spectrum to be an order of magnitude better than even my favorites. Logitech describes the G900 as a "Professional-Grade Wired / Wireless Gaming Mouse", and that my friends, is exactly what this is.
The premium experience starts even before you touch the mouse, as the packaging itself is the first hint you are in for a treat. The clamshell-style box is reminiscent of something from Astro Gaming or Razer, but it is uniquely Logitech. From the moment you open the clamshell, to the unpacking of the accessories everything just feels refined and elegant.
In the box you'll find the G900, a high-end braided cable, and a small plastic accessory case containing the wireless dongle as well as the parts required to convert handedness. That's right, you lefty's out there can rejoice in the fact that by swapping out 2 buttons and a cover the G900 instantly becomes a left-handed mouse.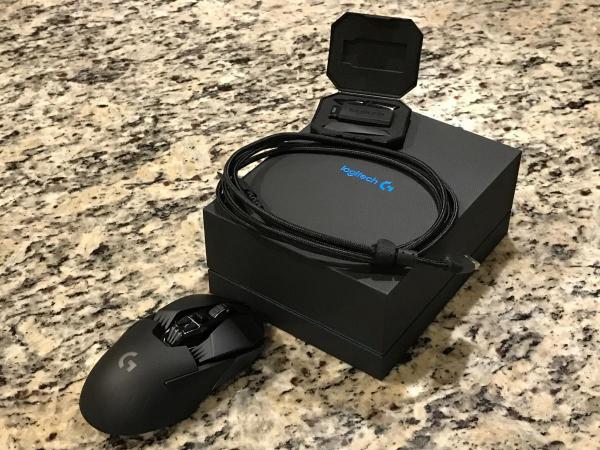 The G900 feels light, especially for a wireless mouse, but not hollow like those no-name $10 mice and not bulky like some wireless mice. Logitech says it weighs 3.8 oz, but that's immaterial because it's really just the right weight. It accelerates with just the right amount of hand movement. The G900 glides across every surface I tested from hard & soft mouse pads, wood, plastic and even carpet with ease and no loss of tracking. Speaking of tracking, that's one of Logitech's huge selling points - this thing is a monster. It boasts 1 ms tracking whether you're using it in wired or wireless mode. I've played hours with it in both modes and I cannot perceive any difference. If you are playing in wireless mode you have a healthy 32 hour battery life.

The buttons on the G900 appear pretty standard, but hide some cool features. The layout is typical - 2 side buttons, left & right mouse buttons and a wheel. Below the wheel are buttons to toggle the DPI, which is configurable from 200 to 12,000 DPI, as well as another small button. The clicking of the left and right mouse buttons feels better than any other mouse I've used. It turns out this is due to a mechanical pivot that Logitech uses on the G900 to reduce the distance and force required to click. I know, clicking doesn't require superhuman strength, but it's a notable difference over other mice, and it feels satisfying. That other little button under the scroll wheel does something really cool. If you've used a mouse wheel before you surely know that little "click" you get as you rotate it. That works great for things like weapon switching where you can rotate it X number of clicks to get to a specific weapon, but not for everything. Pressing that little button toggles the behavior to a mode with no resistance on the wheel. This mode is great for page scrolling, or really anything where exact wheel precision isn't required.
All of the G900 configuration, whether configuring buttons, DPI settings or lighting effects, is all done using Logitech Gaming Software. If you have any other Logitech hardware you've probably already used LGS, as was the case with me, and the G900 showed up right next to my C922 webcam. Configuration is simple, and once you're done making changes it gets saved off to the mouse itself. After a few attempts I dialed in my perfect DPI options in LGS and pushed them to the mouse, after which I was able to toggle them using the mouse buttons.

Looking back on my time with it so far, the Logitech G900 Chaos Spectrum may be the finest mouse I've ever used. Between its perfect hand feel (left or right), excellent build quality and impeccable functionality, both wired and wireless, the G900 is well worth its $149.99 price point. Don't let the price tag fool you, you are buying an ultra-premium device at a reasonable price-point. I can't recommend this mouse any more highly. If you want to check out the full specs they are at http://gaming.logitech.com/en-us/product/g900-chaos-spectrum-mouse .
Review by Derek 'DSmooth' Nolan
He is the co-founder of 2old2play and the host of the wildly popular podcast/vidcast Still Got Game
You can find him easily on Twitter, Facebook, Instagram, Twitch & Beam, among other places.